Twitter Analytics is a perfect tool that allows you to track, measure and analyze your Twitter account's performance, providing valuable insights about your followers and tweets. With Analytics, you can measure your account's growth, track engagement, and better understand your audience's demographics and interests. In today's article, we will provide you with some important topics. First, we will address the "What is Analytics on Twitter" questions. Second, we'll look at three reasons to use Analytics on the platform. Third, we'll provide simple steps about how to use Analytics. At the end of the guide, you'll be able to find three important metrics to track Analytics. If you're ready, let's get started!
What Are Twitter Analytics?
Since 2014, Twitter Analytics has provided its users, whether individuals or businesses, valuable insights into their account activities. It tracks significant metrics such as the number of new followers, impressions, engagement rate, and retweets. By using Analytics for your business, you can utilize data-driven decision-making to enhance your social media strategy. You can adjust your campaigns with insightful data, ensuring better outcomes and more followers on Twitter. Rather than speculating on the effectiveness of your strategy, you can rely on concrete data to optimize your social media performance.
Why Should We Track Twitter Analytics
Understand Your Audience Preferences
Keeping a close eye on how your tweets perform will help you understand the types of content that attract the attention of your audience. This knowledge is pivotal in shaping your content strategy, as it illuminates the tastes and preferences of your followers. Using this information, you can refine your approach and craft tweets that prompt higher levels of engagement. This results in a larger audience and improved reach.
Measure Your Overall Success
When you monitor metrics like impressions, engagement rate, and follower growth, you can determine the effectiveness of your Twitter strategy. So you can make informed decisions about how to optimize your account. This data enables you to determine which types of content perform best, which times are the best for tweeting, and which audiences are most engaged with your tweets. With this information, you can continually refine your approach and achieve greater success on the platform.
Find the Optimal Time to Tweet
Knowing when your followers are most active on Twitter is essential for maximizing engagement. Using Twitter Analytics to identify these times, you can schedule your tweets strategically to ensure they get noticed and interacted with. Conversely, avoiding times when your audience is less active reduces the risk of your tweets being overlooked. By leveraging Analytics to determine the best time to tweet, you can get more views on Twitter, boost your engagement, increase your reach, and achieve greater success on the platform.
How to Use Twitter Analytics
The number one option you should use to analyze Twitter data is Analytics. Here, we would like to introduce the steps to use Twitter Analytics. So, you can easily find essential metrics, including follower gain or loss, impressions, etc.
Log in to your Twitter account and go to the analytics.twitter.com page using your Twitter account name and password
After accessing the Analytics dashboard, you can explore various options to gain valuable insights about your Twitter account's performance.
To access your Tweet Activity dashboard, click on the "Tweets" option from the available menu.
Congratulations! From the Tweet Activity dashboard, you can now view metrics, including impressions, engagements, and link clicks for each of your tweets.
If you want to gain insights into your audiences' data, including demographics, interests, and behaviors, just click "Audiences."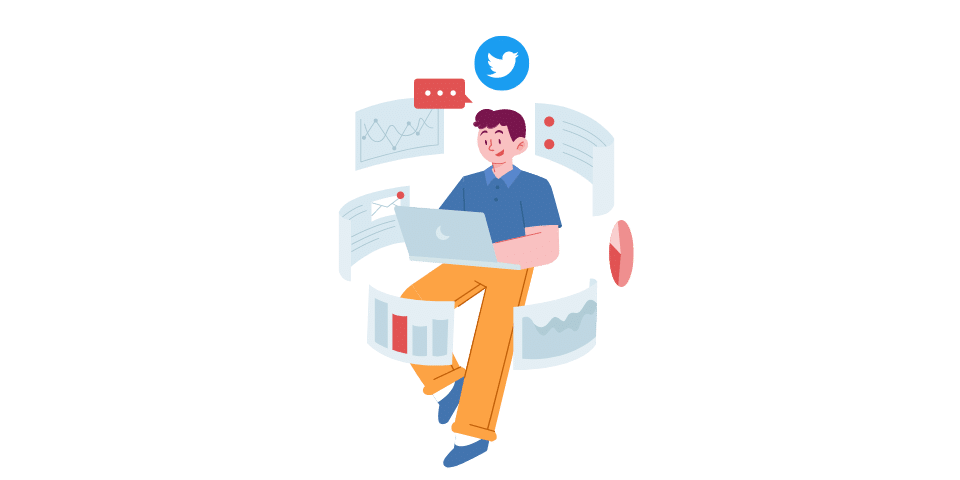 3 Important Metrics to Track Analytics on Twitter
Follower Analytics
Follower Analytics on Twitter Analytics can show you metrics. The metrics include your follower growth over time, your follower demographics. At this point, demographic metrics includes their interests and location, your follower's engagement rate with your tweets, and the top interests and locations of your followers.
Hashtags Analytics
With Analytics' Hashtag Analytics, you can access a range of metrics that can provide insightful data about your hashtag's performance. These metrics include the total number of tweets that include your hashtag, the number of unique users who tweeted with your hashtag. These metrics also include the reach and impressions of those tweets, and the leading contributors and locations for your hashtag.
Engagement Analytics
Follower Engagement on Twitter Analytics can show you metrics such as the total number of retweets, likes, replies, and mentions received by your tweets. These metrics also include the engagement rate of your tweets, the top tweets by engagement, and the demographics of users engaging with your tweets. You can get more likes on Twitter by analyzing your Twitter engagement and developing a more effective strategy accordingly.
To Sum Up
If you want to establish a strong presence on Twitter, Analytics is a must-have tool. It allows you to analyze your account's performance, enhance your content, better interact with your audience, and expand your followers. We believe this guide gives you a comprehensive understanding of the basic principles of Twitter Analytics, how to use it, and the key metrics to follow to achieve your goals. Using these insights, you can elevate your Twitter tactics and attain increased triumph on the platform.
Despite the quality of your content, it may be difficult to attract viewers to your Twitter profile at the beginning. Getting SMM Panel services can help you boost engagement and increase visibility.
Related article; Maximizing Engagement: Tips for Posting on Twitter at the Right Time
FAQs About Using Twitter Analytics
Is Analytics of Twitter available to all users?
Absolutely! Analytics is available to all Twitter users, whether you're an individual or a business account. 
Is Analytics free?
Yes, the tool is an entirely free tool provided by Twitter to all its users. 
What kind of data can I see in Analytics?
You can gain in-depth insights into your Twitter account's performance using Twitter Analytics. It offers a wealth of data related to your account's activity, including essential metrics like impressions, engagement rate, and follower gain/loss. You can even examine specific tweets' data, such as the number of impressions, engagement, clicks, and more.