If you're using Instagram to promote your brand or grow your following, you shouldn't miss out on any of the platform's features. One of the most underrated and effective tools is Instagram location tags. By adding a location to your posts, you can reach more people looking for content from that area or are interested in that location. In this article, we'll discuss the importance of using location tags to increase engagement on Instagram. We'll also give you straightforward tips on using them properly to broaden your reach, get more followers, and interact with your target audience.
How to Use Location Tags on Instagram
Once you've finished editing, filtering, and cropping your image or video, it's time to move on to the next step. You'll be taken to a page where you can add a caption, tag other users, and choose whether you want to share your content on other social media platforms.
When you upload a picture on Instagram, the app will show you location options based on your current location. If you can't find the exact location you want to use, you can tap the">" symbol to browse for more options.
Select the location where you want to share your post and post it as usual. Congratulations, you have now successfully included a location in your Instagram post!
7 Best Instagram Location Ideas
Vintage Vibes – This Instagram location tag is perfect for capturing the retro or vintage aesthetic, whether in clothing, decor, or architecture. Perfect for those who love the nostalgia of bygone eras.
Nature Lover – Use this tag to show your love for the outdoors and nature. Perfect for those who love hiking, camping, or exploring the great outdoors.
Golden Hour – This location tag is perfect for capturing stunning light during the hour before sunset or after sunrise, which gives photos a magical and dreamy quality.
Secret Garden – Use this tag to capture the beauty of hidden or secluded gardens, whether a public park or a private oasis. Perfect for those who appreciate the peacefulness and tranquility of nature.
Paradise Found – Use this tag for beach or tropical vacation photos, showing off your ideal paradise escape from the daily routine.
City Of Stars – This Instagram location tag is inspired by the romantic and beautiful cityscape view at night, just like the famous song from the movie "La La Land."
Wanderlust – Use this tag to show off your adventurous spirit and love for traveling. It's perfect for travel enthusiasts who want to share their exciting adventures and inspire others to explore the world.
Fictional Location Ideas
You can also use fictional Instagram locations in your posts. Your favorite TV shows or movies can inspire you to find these locations. Here are some creative locations for Instagram.
"King's Landing," "Dragonstone," or" Westeros" from Game of Thrones
"Hogwarts" or "Diagon Alley" from Harry Potter
"Central Perk" from Friends
"Middle Earth" from The Lord of the Rings
Why Using Instagram Location Tags Is Important
In the world of Instagram, using hashtags plays a vital role in helping users discover new content, connect with others who share their interests, and expand their reach and engagement. Adding hashtags to your posts makes them searchable and appear in the search results for that particular hashtag. People interested in your content can easily find your profile and engage with your posts. Besides, using popular hashtags can help you get more likes on Instagram and gain more visibility beyond your followers, as they may appear in the Explore tab or other users' feeds.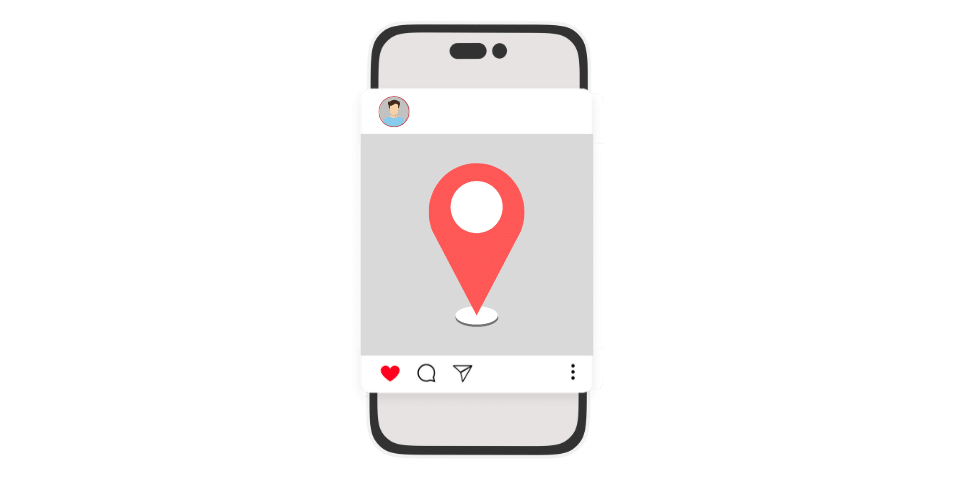 How to Fix Instagram Location Tag Feature When It's Not Working?
If you encounter problems with geotags on Instagram, you can resolve them by following some straightforward steps. Start by checking if your Facebook business page is connected to your Instagram account. Then, ensure that your device has geolocation enabled, including the Instagram app in your location settings. Having a good internet connection is also crucial. If none of these steps work, restart your device and reopen the Instagram app. When you follow these recommendations, you can fix any geotag problems and continue using Instagram effectively.
To Sum Up
When you tag a specific location, you can make your content more visible to interested users, which enables you to gain more likes, comments and get more followers on Instagram. To maximize the benefits of location tags, combine them with other best practices, such as relevant hashtags and active engagement with your followers. By implementing these strategies, you can establish a strong presence on Instagram and expand your audience. If you're not already using Instagram location tags, give them a try and observe the positive impact on your engagement and reach on the platform.
Despite the quality of your content, it may be difficult to attract viewers to your posts at the beginning. Getting SMM Panel services can help you boost engagement and increase visibility.
Related article; How To React To Messages On Instagram
FAQs About Using Location Tags to Boost Your Instagram Engagement
How do Instagram location tags boost my engagement on Instagram?
Using location tags on your Instagram posts lets you make your content visible to people searching for posts related to that location. This can increase the chances of getting more likes, comments, and followers and attract new followers interested in your content. 
How can I choose relevant hashtags on Instagram?
There are some critical steps when you use the best hashtags on the platform. These are brainstorming keywords and taglines, researching other relevant accounts in your niche, keeping track of your Instagram hashtags, and following trends. 
How many Instagram location tags should I use per post?
The platform allows you to only use one location tag per post.