How to Get More Views on TikTok
March 27, 2023

How to Get More Views on YouTube
March 27, 2023
We all know the importance of Twitter among social media platforms. This makes getting more likes, shares, comments, and views essential. However, getting noticed and standing out from the crowd can be challenging, with so much content being shared every second. Therefore getting more Twitter views plays an important role in increasing your visibility and reaching a wider audience on the platform.
There are, however, uncomplicated methods for increasing the number of views you receive. In today's article, we'll outline 15 easy but effective steps. Without further delay, let's dive right into our article.
15 Easy But Effective Steps to Get More Twitter Views
Tweet On A Regular Basis
Posting interesting and relevant content on Twitter regularly can help you build a loyal group of followers. This, in return, makes it easier for new people to find you on the platform. By establishing a routine for publishing your tweets, your audience will come to rely on and look forward to your updates. If you do this, Twitter may show your posts to more people, which could help you reach a bigger audience.
Post User Generated Content (UGC)
To increase your Twitter views and engagement, sharing user-generated content (UGC) can be an intelligent strategy. When your followers create and post content related to your brand, it shows they care about it. Sharing this content on your Twitter page shows that you appreciate them and value their input. Plus, UGC can help you reach new people with fresh perspectives. Regularly featuring UGC can encourage more followers to participate and increase your engagement.
Respond To Your Mentions
When someone mentions you in a tweet, they want to connect with you, whether to ask a question or offer feedback. Responding to your mentions shows your followers that you care about their opinions. This can encourage them to engage with you more, potentially increasing your Twitter views and engagement. Responding to your mentions also helps build stronger relationships with your followers, creating a sense of community around your brand. Being responsive and attentive to your followers' needs can establish a loyal fanbase that's more likely to engage with your content.
Share Videos
Sharing videos on Twitter effectively captures your followers' attention as they scroll through their feeds. Videos offer a more engaging and dynamic way to showcase your brand. By creating videos, you can add diversity to your content and appeal to a wider range of audiences. Videos can also educate or entertain your followers, which can help establish your expertise and build trust. Consistently sharing high-quality videos on Twitter can boost engagement, attract new views, and strengthen your online presence.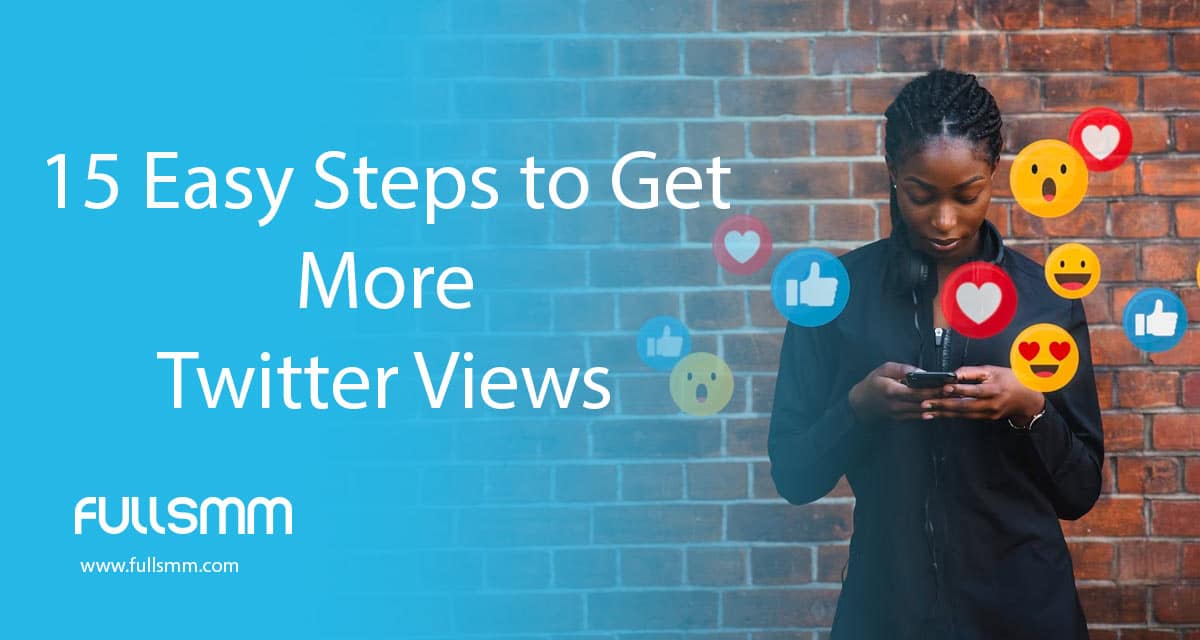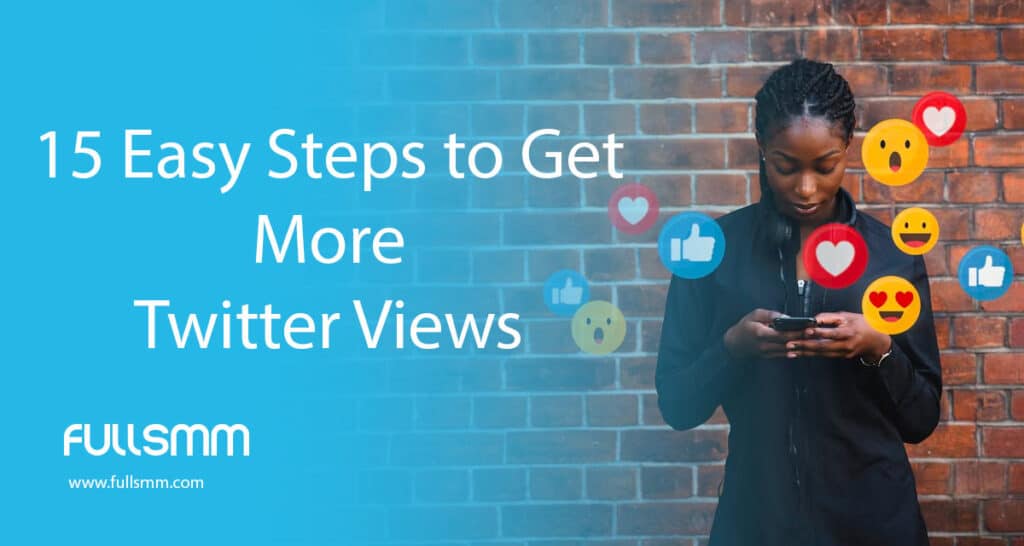 Share Your Tweets on Other Social Media Accounts
You can boost your Twitter views by promoting your tweets on other social media platforms like Instagram. This can expose your content to a larger audience and improve engagement. All you need to do is to tailor your tweets to each platform and ensure they align with your brand strategy. Consistently sharing your tweets on other social media can increase your visibility and attract new views.
Keep Your Tweets Brief
To make the most of Twitter's 280-character limit, it's essential to keep your tweets short and straightforward. Shorter tweets are easier to read and share, making them more likely to attract attention. By creating concise and impactful tweets, you can capture the interest of your followers and gain new ones. Brief tweets also allow room for interaction, as they provide an opportunity for your followers to ask questions or share their thoughts. By crafting clear and concise tweets, you can increase your Twitter views and engagement and strengthen your relationships with your followers.
Follow Trending Topics
Using popular hashtags or phrases currently being discussed on Twitter, you can tap into a wider conversation and reach a larger audience. Participating in these trending topics can expose your tweets to users who are interested in that topic, regardless of whether or not they follow you. This can increase your engagement and increase your views on the platform. However, choosing trending topics that are relevant and appropriate for your brand is vital and creating valuable content relevant to your followers is critical.
Determine Peak Hours To Tweet
Identifying when your audience is most active on Twitter is crucial in increasing your content's visibility and engagement. By posting during these peak hours, you have a higher chance of reaching a larger audience and receiving more likes, comments, retweets, and views. However, the best time to tweet may vary based on your industry and followers, so tracking and adjusting your tweeting schedule is essential. Consistently tweeting during peak hours can help you attract more Twitter views and boost your online presence.
Share Informative Or Funny Tweets
Sharing tweets that provide helpful information or bring a smile to your followers' faces can help you establish yourself as an expert in your field. Including a mix of informative and entertaining tweets in your content strategy can attract a wider audience and increase Twitter views. However, ensuring that your tweets align with your brand and are appropriate for your existing followers is essential.
Ask a Riddle
Asking riddles can be a unique way to get more views and engage with your existing audience. You can challenge your followers to think creatively and participate in a conversation by posing a riddle. Riddles can also be shared and retweeted, potentially reaching a broader audience and increasing your visibility on the platform. However, ensuring that your riddles are appropriate and align with your overall content strategy is essential. By including riddles in your content and encouraging interaction with your followers, you can increase your Twitter views and engagement and build a more active online community.
Pin Your Best Tweets At the Top
Pinning your best tweets at the top of your Twitter profile can get more views and engagement on the platform. This ensures visitors to your profile see your top content, which can lead to increased followers, engagement, and visibility. Choose relevant content that represents your brand and aligns with your messaging strategy, and update it regularly to keep your profile interesting.
Use Twitter Ads
Using Twitter ads can help you reach a wider audience by creating targeted campaigns that appeal to users interested in your industry. Customizing and monitoring your ads' performance can increase your Twitter views and engagement, attract new followers, and boost your online presence. With various ad formats available, Twitter provides detailed analytics and insights to help you optimize your strategy and establish yourself as a credible voice in your industry.
Use Twitter Analytics to Optimize
Analyzing tweet performance and audience engagement through Twitter Analytics can help you identify which content types resonate with your followers. By tracking metrics like impressions, engagements, and click-through rates, you can adjust your content and posting schedule to increase engagement. Using audience insights to understand your followers' demographics and interests can help you create more targeted and relevant content, leading to more views and engagement.
Tell a Story
To increase your Twitter views, sharing a captivating, emotional, or informative story that connects with your audience is a great strategy. To create a compelling story, focus on a specific topic that aligns with your industry, and use clear language and visuals. Besides, tagging relevant accounts and using appropriate hashtags can help expand the reach of your story and attract more views.
Make Your Account Public
If you want to get more Twitter views, you must make your account public. This means anyone can see your tweets, even if they aren't following you. By creating your account public, you can expand your audience and reach new people who may be interested in your content. Remember that more people means more views.
Related articles;
FAQs About Getting More Views on Twitter
How can I find trending hashtags to use in my tweets?
It's actually pretty simple to do. All you need to do is to check the "Trending" part on Twitter's homepage. If you want to find more hashtags, you can also check Twitter's Explore tab. You can find trends for your viral tweets, popular videos, or images on this screen.
Should I make my Twitter account public to get more views on Twitter?
If you want to increase your Twitter views, we strongly recommend that you make your account public. So you can increase your visibility and attract new followers to your profile.
Can retweeting other users' tweets help me get more views on Twitter?
Retweeting interesting and relevant content can highlight your personality and interests to your followers and gain new followers who share the same interests. This, in return, allows you to increase the number of Twitter views you get.
How can I increase the visibility of my tweets on Twitter?
There are different ways to achieve this. Making your account public, telling an informative or emotional story, or using Twitter ads help you increase your views. Besides, you can increase your views by posting user-generated content (UGC) or engaging and trending tweets.
Can I increase my views by asking riddles on Twitter?
Yes, riddles are an excellent way to engage with your followers. Clever riddles motivate your followers to engage with your content and share it with others. This can help you increase your Twitter views, likes, shares, and comments.
Conclusion
Getting views on Twitter to help you reach more people and grow your business online. However, the platform has about 450 million active users and is so crowded. Therefore, it's getting harder and harder to be noticed by users. Today, we've listed some practical steps that enable you to stand out from the crowd. From tweeting regularly and posting UGC to sharing informative tweets or telling a story, there are several ways to get more Twitter views. So don't hesitate to put these strategies into action and see your Twitter presence grow!

Hi I'm Eira Harring. As an English language and literature graduate, I have been a content writer for a long time. Afterward, while writing content for the digital marketing, my interest in this sector and social media issues increased. I have been writing content on social media topics for about 5 years. It is a pleasure to share my knowledge in this field through FullSMM.com by following current trends and news.