To watch a video, YouTube is the number one place we all prefer. The platform can be seen as the best platform to show more people your knowledge, talents, and expertise. However, we all know thousands of videos are being uploaded per hour. This may be challenging for new YouTube creators to stand out from the crowd. However, if you haven't decided on your niche on YouTube, there are some efficient and effective methods to find your niche. In this article, we'll take a look at five steps to finding your YouTube niche to build a strong foundation for your platform's success.
What is YouTube Niche?
YouTube niche is a specific topic you focus on in your videos on the platform. This can range from a broad range of categories. To give an example, gaming, cooking, finance, music, fitness, or makeup can be trendy niches you can focus on. Selecting a specific niche on YouTube can allow you to build a targeted audience interested in your content. This, in return, helps you increase your chances of becoming more successful and outperforming your YouTuber creator competitors.
5 Perfect Steps to Find Your Niche On YouTube
Select a Niche that Includes a Wide Range of Niche
Choosing a niche with sub-niches enables you to find different topics and identify what attracts your audience the most. This allows you to start creating videos that attract more potential viewers. Besides, having a broad niche on YouTube provides flexibility that allows you to experiment with different types of videos. So you can keep your YouTube channel fresh.
Choose a Niche Based on Your Passion
Selecting the right niche for your YouTube channel indeed plays a key role. At this point, a new and essential question comes to our mind: Does what you like to share with other people of interest to your target audience? If you say yes as an answer, then there's a good chance that your viewers will find value in your content. So you can obtain loyal followers on your YouTube channel.
Check The Trending Topics
To find your niche on YouTube, checking the latest trends can help you discover current popular topics and attract a larger audience. When you upload videos on YouTube related to trending topics and share it on your channel, you can improve the visibility of your channel. So it makes it easy to draw in viewers who are interested in those topics. Besides, trending topics can inspire you to come up with new video ideas for your YouTube channel. For instance, if you notice a trend emerging, you can develop your unique perspective or opinion on that topic. At the end of the day, this leads to unique and exciting content for your channel.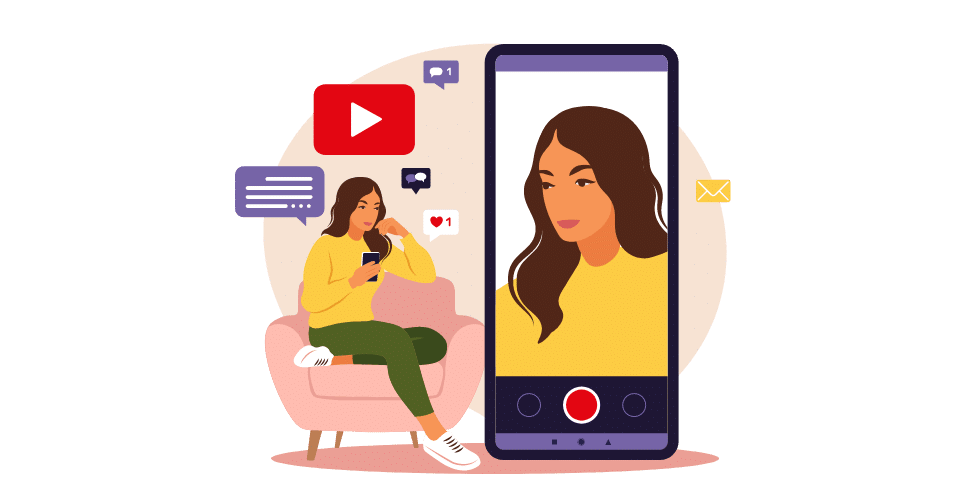 Analyze Other Creators
When you research other creators on the platform, you can understand what content works and what doesn't. This allows you to determine the critical points where you can differentiate yourself from the crowd. So you can improve the content strategy that targets your specific audience and distinguishes you from your rivals on the platform. Discover the hashtags used by the most viewed YouTubers and analyze the best hashtags for YouTube.
Select a Niche that Let You Generate Enough Content
When choosing a niche on YouTube, it is essential to focus on whether it will enable you to generate enough content over a long period of time. If you can't come up with at least 15 topics for videos, that's a red flag. Inspiration and ideas are critical to success on YouTube; you'll need them for years. Having a genuine love for your niche is essential, as you'll likely be creating content on this topic for a while. Consider if your passion will last and if your niche will suit you as your life changes. Remember to choose a niche that lets you produce a constant flow of content.
Final Thoughts on Your Niche on YouTube
Discovering a YouTube niche is essential to develop a successful YouTube channel and earn money on YouTube. This challenging process involves various vital stages. These are selecting a niche that covers a wide range of subtopics, choosing a niche based on your passion, analyzing your competitors, and keeping up with the latest trends. At this point, selecting a niche that lets you generate enough content within the niche is also important. When you follow these steps, you can determine a specific area of interest. So you can create videos that attract the attention of the interests of your target audience. With persistence and effort, you can establish yourself as an influential figure in your niche and attract a devoted following of viewers who share your passion. Remember that finding a niche on YouTube requires constant adjustment and modification to ensure your content remains relevant and engaging.
Despite the quality of your content, it may be difficult to attract viewers to your videos at the beginning. Getting SMM Panel services can help you boost engagement and increase visibility.
FAQs About Your Niche on YouTube
What are some potential niches on YouTube that I can consider focusing on?
here is a wide range of niches you can focus on. It totally ups to you and your passions. Makeup and fashion, cooking, travel, education, music, fitness, and how-to videos are some niches you can consider focusing on. 
Should I focus on a broad or narrow YouTube niche?
Actually, focusing on a narrower niche is better for especially new YouTube creators. This is because a narrower niche can allow you to establish yourself as an authority in a specific area. Thus, you can more easily distinguish yourself and stand out from the YouTube crowd. 
Why is it essential to find a niche on YouTube?
Concentrating on a particular niche on your YouTube channel allows you to produce content that resonates with your intended audience. This, in return, leads to enhance engagement on your channel. Besides, having a niche can distinguish you from other creators and make it easier for viewers to discover and subscribe to your channel.