How to Get More Views on Instagram
March 27, 2023

How to Get More Views on Twitter
March 27, 2023
TikTok has become extremely popular worldwide because of its short and exciting videos that people love to watch. It offers a variety of content, such as dance, comedy, education, and cooking, that appeals to everyone. The number of people using TikTok is growing quickly, and it has become an essential platform for both individuals and businesses. In this case, we want to focus on how you can get more TikTok views.
But before looking at the steps, we want to answer the question, "What do 'Views' on Tiktok Mean? Whether you're an influencer, a business, or a user looking to showcase your creativity, TikTok can be very valuable. So, let's start with the fundamental question.
What Does 'Views' on TikTok Mean?
Different social media platforms have varying ways of measuring "views," but on TikTok, it's very straightforward: A "view" is recorded when someone watches a video for at least 5 seconds. In other words, once your video starts playing for at least 5 seconds, it's considered a view. If the video replays or auto-plays, and the same person watches it again, each one will be counted as a separate view. However, if you watch your video, it is not included in the number of TikTok views. While it may be challenging to get people to watch your entire video, there are some practical steps to increase the number of views you receive. Let's dive in!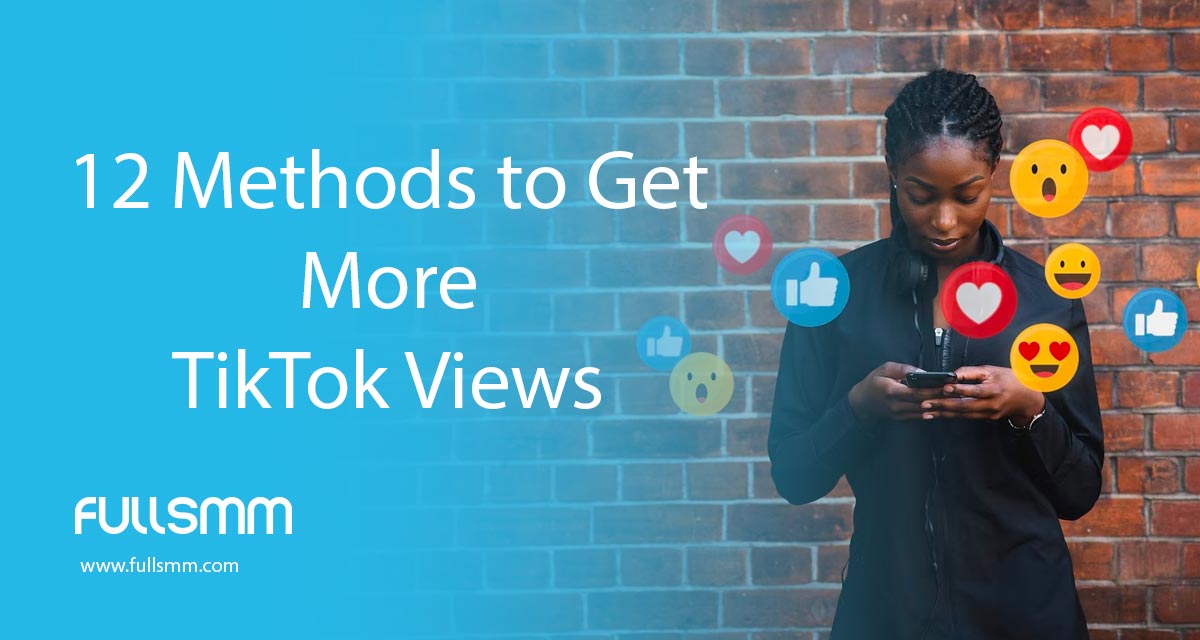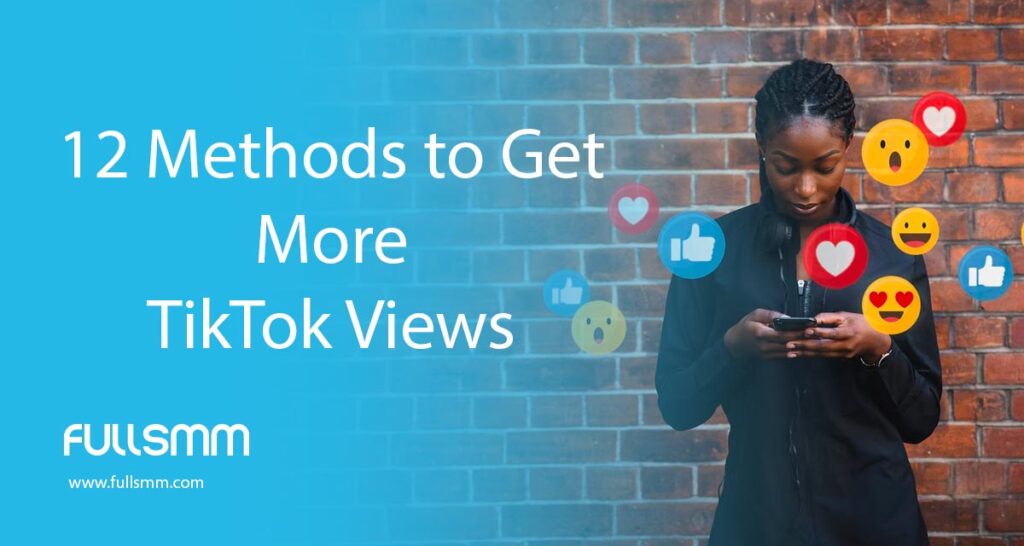 12 Methods to Get More TikTok Views
Share Eye-Catching and Short Videos
Creating visually engaging and concise videos is critical to getting more TikTok views. The platform's fast-paced nature and users' short attention spans mean that videos must capture attention quickly. By making your videos eye-catching and attention-grabbing, you can increase the likelihood of users stopping to watch them.
Furthermore, TikTok's algorithm prefers content that keeps users engaged for as long as possible. Therefore, creating shorter videos packed with interesting content can help keep users engaged. So you can increase the chances of your video appearing on the "For You" page or other relevant feeds. By making your videos concise and visually appealing, you can stand out from the crowd and increase your reach on the platform.
Use Hashtags In Your Videos
Including hashtags in your TikTok videos can enhance your chances of getting more TikTok views. Adding relevant hashtags can make your videos more visible and reach a broader audience. This is because hashtags make your content searchable and discoverable by users interested in the same topics. So, your video has a higher chance of appearing on the "For You" page or other relevant feeds.
Suppose you make a video of yourself dancing to a popular song on TikTok. To increase its discoverability, you can add relevant hashtags like #dance, #tiktokdance, #choreography, and #music. This can help users interested in dancing or related content find your video. Besides, you can join popular challenges and use trending hashtags to increase your chances of getting more TikTok views and potentially going viral.
Share Your Videos on Your Other Social Media Accounts
Sharing your TikTok videos on other platforms can help you cross-promote your content and build a more substantial online presence. Sharing your TikTok videos on other social media platforms can expand your reach beyond the TikTok community. So, it exposes your content to a larger audience. Furthermore, this cross-promotion can drive traffic back to your TikTok profile, potentially increasing your follower count and views on the platform. In this case, Instagram and Twitter are the perfect platforms to share your videos to get more TikTok views.
Use Catchy Music
Since TikTok is based on music and sound, many users search for videos based on the music or sounds used in them. Using the popular and catchy tune in your videos, you can tap into existing trends and increase the chances of your video appearing on the "For You" page. Using music relevant to your video can help create a mood that resonates with your audience, making them more likely to engage with your content.
The popular music on TikTok can vary depending on the trends and challenges currently popular on the platform. Some songs become popular because they are used in a viral dance or challenge, while others gain popularity because they are catchy and easy to lip-sync or perform. Some latest songs on TikTok are Flowers by Miley Cyrus, Calm Down by Selena Gomez, and Kill Bill by SZA.
Don't Miss TikTok Challenges
Challenges are popular on TikTok and can quickly gain momentum and reach a broad audience. Joining these challenges could help your content get more TikTok views and even become viral. For example, "Oh No" is among the most popular challenges. This challenge involves users reacting to a specific sound effect and pretending to fall or drop something. The challenge has gained much popularity and has been performed by many TikTok users, including celebrities and influencers.
Participating in these challenges can also help you stay up to date with the latest trends on TikTok and maintain relevance on the platform. It can attract new followers who are interested in the challenges you take part in.
Use Effective Captions
Effective captions on TikTok are essential because they can make your videos more exciting and engaging. Using clever captions can help viewers remember your videos and encourage them to share them. In addition, captions can make your content more accessible to a larger group of people, including those who are deaf or hard of hearing or watching your videos in a noisy environment. This can increase your engagement levels and help to grow your audience over time. At the end of the day, you can increase the number of TikTok views you receive.
Use the Perfect Video Lighting
Good lighting is crucial to making your TikTok videos look better and more attractive, and it can help your content stand out from other videos. Ensuring your subject is well-lit and visible when filming your videos is essential. Filming near a window or outside during the day is a good option for natural lighting. However, if you're filming at night or in a dimly lit area, using artificial lighting like lamps or ring lights can brighten your footage and improve the overall quality of your videos.
Don't Underestimate Sound Quality
Having good sound quality is important for getting more TikTok views. This is because if the audio in your video is good, people may need help hearing or understanding it. They might get bored and skip your video. Besides, sound is essential to many TikTok trends and challenges. The audio used in these challenges is just as important as the visuals, and having clear and high-quality sound can make your videos more enjoyable and engaging to watch.
Moreover, TikTok's algorithm considers various factors to determine how much reach your videos get. These factors include how much people engage with your content by liking, commenting, sharing, and watching the video. If the sound quality is poor, it may reduce engagement levels, negatively impacting your video's reach and, ultimately, your TikTok views. So, having good sound quality can make a big difference in the success of your TikTok videos.
Post How-to Videos
Creating "how-to" or "how-to-make" videos on TikTok can be an effective strategy if you're looking to increase your TikTok views.
Creating "how-to" or "DIY" videos can often generate a lot of shares on TikTok, particularly if they present original or innovative concepts that viewers haven't seen before. This can lead to more likes, comments, and shares, increasing your visibility and reach on the platform. Besides, by sharing "how-to" or "DIY" videos on TikTok, you can position yourself as a knowledgeable and trusted source in a particular field. This can increase your appeal to potential new followers and strengthen the loyalty of your current ones, as they recognize you as a valuable authority in your niche.
Create the Best Post Schedule
Creating an effective posting schedule is vital to get the most out of your TikTok account. By planning and posting content regularly, you can keep your audience engaged and interested in your account, leading to more TikTok views and followers. It's essential to study your audience and determine when they are most active on the platform, so you can schedule your posts at the correct times to increase visibility and engagement. An optimized post schedule can also help you save time and effort in creating and posting content, making the process more efficient.
Post Your Videos Consistently
Posting videos consistently on TikTok is essential to maintain the interest and engagement of your audience. Regularly uploading videos makes your followers more likely to watch and interact with your content. They will anticipate and look forward to your next video. Consistency also signals to the TikTok algorithm that your account is active, which can improve your chances of appearing in users' feeds and being recommended to new viewers. Furthermore, consistent posting can increase the likelihood of your videos going viral and appearing on the coveted "For You" page. This, in return, creates more TikTok views, likes, and shares.
Be Creative
It is vital to showcase your creativity and originality to increase your chances of gaining more views on TikTok. As the platform is home to millions of users, it can be challenging to stand out and make a lasting impression on viewers. However, you can make your content stand out from the rest by injecting your unique personality into each video and experimenting with different styles, camera angles, and effects. Whether you're dancing, sharing your thoughts, or engaging in a fun activity, find ways to add your own unique touch to your videos. This can help capture viewers' attention and build a dedicated following on TikTok. So, let your creativity run wild and see where it takes you on the platform!
Related articles:
FAQs About Getting More Views on TikTok
How important is timing when posting videos for maximum TikTok views? 
Timing plays an essential role in getting more views on the platform. You should post during peak hours when more followers are online.
Should I use hashtags on my TikTok videos to increase my TikTok views? 
Using hashtags in your TikTok videos can help your content reach a larger audience and enhance its discoverability. By using relevant and trending hashtags in your video descriptions, you can boost the chances of your content being featured on the "For You" page, increasing its visibility and attracting more views.
Should I use trends to increase my TikTok views? 
To leverage TikTok trends, keep yourself informed about the latest challenges and hashtags, and include them in your videos. Participating in the most popular challenges and trends can improve your chances of getting viral and attracting more views on the platform.
What type of content performs well on TikTok?
A broad range of content can work, such as dance videos, lip-syncs, educational material, comedy, beauty tutorials, or how-to videos. You should also follow the latest trends and challenges.
Do shorter videos get more TikTok views?
Yes. Due to their ability to quickly capture viewers' attention and provide easily consumable content, shorter TikTok videos tend to receive more views. 15-30 seconds videos can be significant.
Wrap Up
TikTok is one of the most popular platforms, so we want to get more views. To do so, there are dozens of ways you can follow. Today, we've introduced 12 perfect steps to get more TikTok views. These include sharing eye-catching and short videos, using relevant hashtags, and staying current with trends. Posting at optimal times and being creative can also boost your visibility on the platform. However, it's important to remember that success on TikTok takes time and effort. It would help if you were consistent and patient. The rest will come.

Hi I'm Eira Harring. As an English language and literature graduate, I have been a content writer for a long time. Afterward, while writing content for the digital marketing, my interest in this sector and social media issues increased. I have been writing content on social media topics for about 5 years. It is a pleasure to share my knowledge in this field through FullSMM.com by following current trends and news.