In the fast-changing world of YouTube, creators dream of the exciting opportunities of getting sponsored. Sponsored on Youtube provide money and open doors for collaboration and growth. By teaming up with the right brands, creators can improve their channels, reach more viewers, and profit from their content. In this article, we'll review the basic steps to attract the attention of YouTube sponsors. We'll cover building a strong channel, knowing your brand and audience, finding potential sponsors, making appealing proposals, and reaching out effectively. After that, we'll look at 6 types of sponsorships on the platform. Let's explore the world of sponsorships on YouTube and how they can help your channel succeed.
5 Fundemantal Steps About How To Get Sponsored On Youtube
• Step 1: Build a Strong YouTube Channel
Focus on creating high-quality content that resonates with your target audience. Consistency, authenticity, and engaging videos will help you attract and retain subscribers. Build a loyal community and establish your niche expertise.
• Step 2: Define Your Brand and Audience
Understand your channel's brand identity and target audience. Determine the demographics, interests, and preferences of your viewers. This information will help you identify sponsors that align with your content and audience.
• Step 3: Research Potential Sponsors
Conduct thorough research to find brands that align with your channel's values and niche. Explore products or services that your audience would find helpful or interesting. Look for brands sponsored by similar YouTube channels or influencers in your industry.
• Step 4: Create a Sponsorship Proposal
Craft a professional YouTube sponsorship proposal that highlights your channel's strengths, audience demographics, and the value you can provide to potential sponsors. Include details on the types of sponsorships you offer, such as product placements, sponsored videos, or brand ambassadorships. Tailor each proposal to the specific brand you're targeting.
• Step 5: Reach Out to Brands
Contact potential sponsors through email, social media, or brand partnership platforms. Personalize your outreach and clearly articulate why partnering with you would benefit their brand. Demonstrate your knowledge of their products or services and how they would naturally integrate into your content.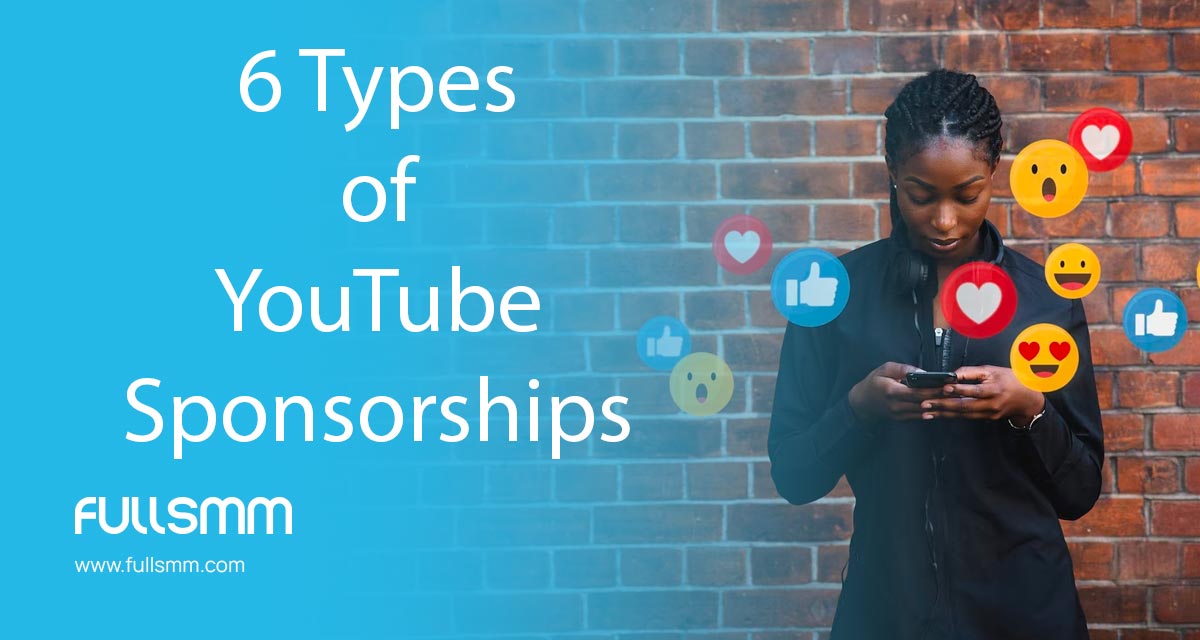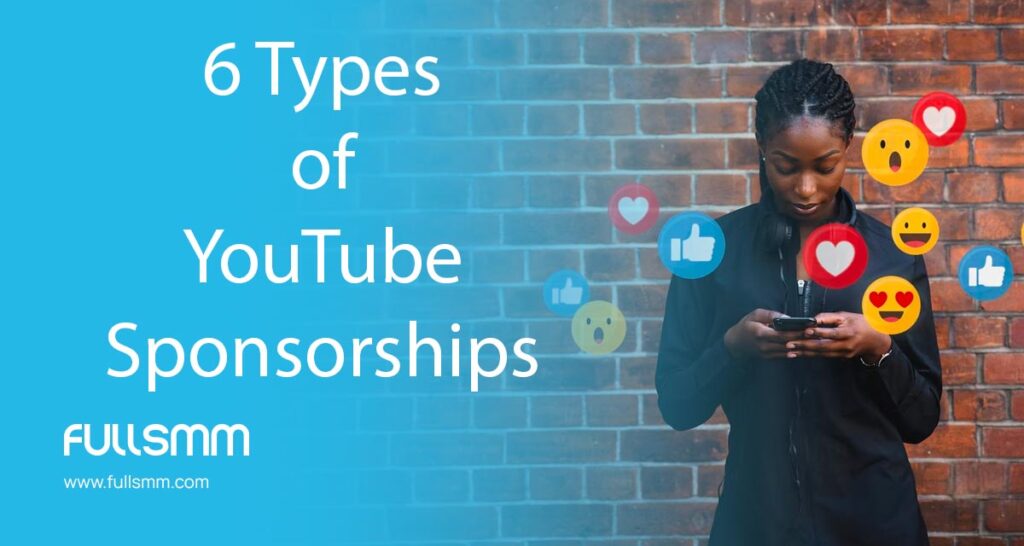 6 Types of YouTube Sponsorships
When it comes to YouTube sponsorships, there are various types of collaborations and partnerships that content creators can explore. Here are some of the common types of sponsorships with brief explanations:
• Sponsored Videos: Sponsored videos are dedicated content explicitly created for a sponsor. In these videos, content creators produce content centered around the sponsor's product, service, or brand. This type of YouTube sponsorship typically involves a contractual agreement and compensation for the creator.
• Product Placement: Product placement involves featuring a sponsor's product or service within your YouTube videos. This could include using or showcasing the product, mentioning its benefits, or incorporating it into the content naturally. Content creators often receive compensation or free products in exchange for promoting the sponsor's offerings.
• Brand Ambassadorship: Brand ambassadorships involve a long-term partnership between a content creator and a brand. As a brand ambassador, the content creator becomes the face of the brand and promotes it consistently across their YouTube channel. This type of Sponsored on Youtube often involves exclusive contracts, brand collaborations, and regular compensation.
• Event Sponsorships: Content creators can also secure sponsorships for events they host or attend. Brands may provide financial support, products, or services in exchange for promotion before, during, and after the event. Event sponsorships can help creators cover costs and enhance the overall experience for their audience.
• Channel Sponsorships: Channel sponsorships involve securing a sponsor for the entire YouTube channel rather than individual videos. In this arrangement, the sponsor's brand is prominently featured throughout the channel, including video intros, banners, or exclusive segments. Channel sponsorships usually offer stable, ongoing financial support.
• Affiliate Marketing: Affiliate marketing involves promoting products or services through unique referral links. The content creator earns a commission when viewers click on these links and purchase. This YouTube sponsorship type allows for a more passive form of promotion and can be integrated into various videos or through dedicated referral links in the video description.
How Much Do Sponsorships On Youtube Pay?
The simple answer is that sponsors typically pay between $10 to $50 for every 1,000 views on sponsored YouTube content for an average YouTube channel. However, the actual payment can vary depending on factors such as the specific sponsor, the YouTube channel itself, the content niche, and the type of sponsored content being created.
The highest-paid YouTubers, who often have a large number of subscribers, can command much higher fees, sometimes charging thousands of dollars for a single sponsored video. A great example is Ryan's World, a YouTube channel with a net worth of over $32 million. They generate income from ad revenue, sponsored videos, and toy reviews.
So, Sponsored on Youtube payment can range from $10 to $50 per 1,000 views for most YouTubers. However, earning money on YouTube can be significantly higher for those with substantial subscriber counts and strong brand partnerships.
To Sum Up
YouTube sponsors offer a great opportunity for creators to make money, collaborate with brands, and grow their audience. By following the basic steps we discussed, like building a strong channel, knowing your brand and audience, researching sponsors, creating appealing proposals, and reaching out effectively, you can increase your chances of getting sponsorships. Remember, it's not just about the number of subscribers but also about creating engaging content and finding sponsors that match your channel's values. With dedication and a smart approach, you can unlock the doors to Sponsored on Youtube and achieve success for your channel.
Related article; YouTube Affiliate Marketing Guide
What is the minimum number of subscribers required to secure sponsorships?
Aiming for a minimum of 1,000 YouTube subscribers is a good starting point before approaching brands for sponsorships. However, it's important to note that YouTube sponsorship opportunities tend to increase significantly when you have 10,000 subscribers or more. As your channel grows and you meet the YPP requirements, you'll have a stronger foundation to attract brands and negotiate favorable sponsorship deals. 
How can I demonstrate the value I can provide to potential sponsors?
You can highlight your engagement metrics, such as average watch time, audience demographics, and social media reach. Provide case studies or testimonials from previous brand collaborations to showcase successful partnerships. Showcase your benefits, such as product reviews, sponsored videos, or social media shout-outs. Remember to present yourself professionally and convey why working with you will benefit the brand. 
How do I determine the right YouTube sponsorship opportunities for my channel?
Choosing the right sponsorship opportunities for your channel involves careful consideration. Look for brands that resonate with your audience and content. Consider the relevance of the product or service to your viewers and how it fits organically into your videos. Evaluate the reputation and values of the brand, ensuring it aligns with your brand image. Besides, consider the compensation offered, contractual terms, and the potential for long-term partnerships.