TikTok has taken the world by storm, becoming one of the most popular social media platforms among all age groups. So, platform users are trying to increase the number of TikTok followers. There are different reasons for this. For example, the more followers you have, the more exposure your content receives. Or, increasing your followers helps you go viral faster. However, with the vast number of users and creators on TikTok, standing out and gaining a follower can take time and effort. Don't worry; we'll provide ten practical tips to help you grow your TikTok following. If you're ready, let's dive into the steps.
10 Steps To Increase Your TikTok Followers
Identify Your Target Audience
First things first. When you know your target audience, you can tailor your content to their preferences, interests, and needs. This allows them to engage with and follow you. When you consistently create content your target audience enjoys, they generally engage with your posts, share them with friends, and follow your account.
Include Engaging Hashtags
Hashtags are crucial to increase your TikTok followers, as they play a vital role in spreading your content. Using trending hashtags in your videos and ensuring that your content is relevant to those hashtags can significantly enhance your chances of appearing on people's For You Page.
If you need help deciding which hashtags to use, consider checking out other creators in your niche for inspiration. Alternatively, type the '#' symbol when writing your caption and see what trending hashtags appear. This can help you stay up-to-date with the latest trends and increase your reach among potential followers.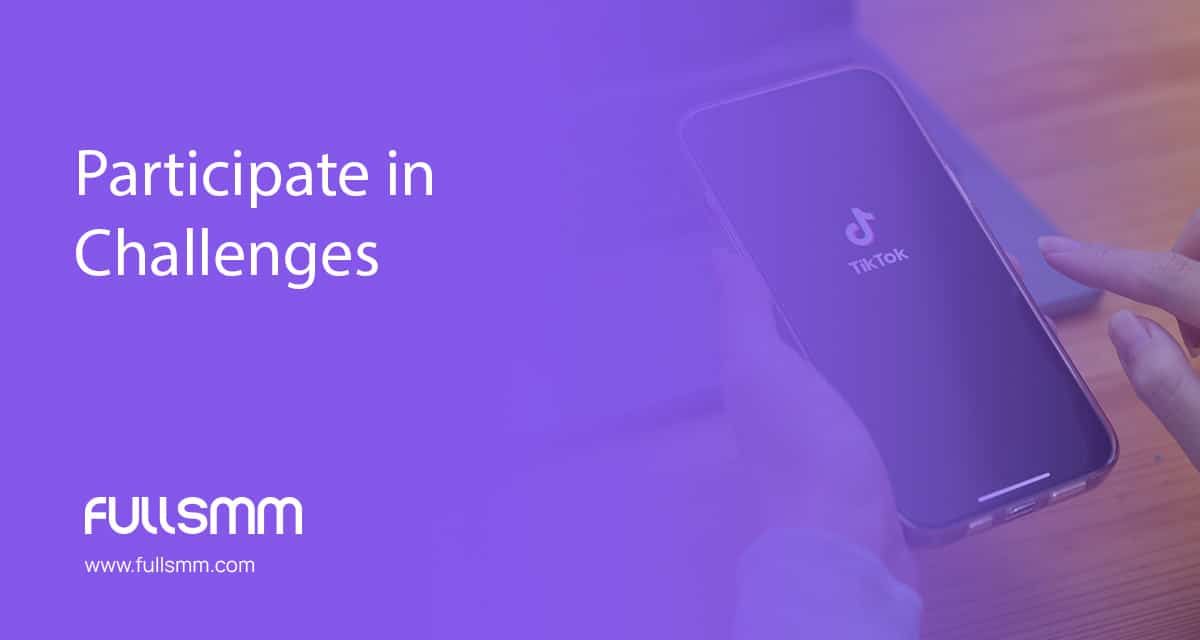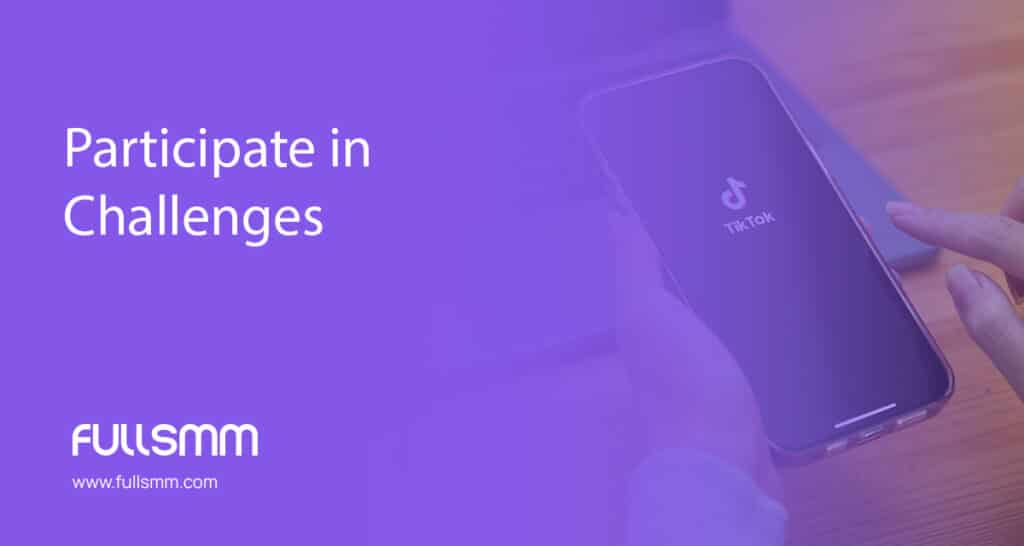 Participate in Challenges
TikTok offers many challenges, and we suggest participating in the same challenges your intended audience engages in. Most of these challenges involve dancing, so be ready to showcase your dance skills (and be open to being a little vulnerable). Besides joining existing challenges, you can also create your TikTok challenges. This, in return, helps you gain new TikTok followers.
One example of a popular challenge on TikTok is the "Renegade" dance challenge. This challenge became viral after being performed by several popular TikTok creators. Millions of users have since attempted the challenge on the platform.
Cross-Promote on Other Popular Platforms
To increase your TikTok followers, it's helpful to leverage your online presence and promote your TikTok content on other social media platforms. Many Instagram Reels users, for example, share their TikTok videos on the platform. You can share your TikTok content on other platforms by either adding your TikTok videos with the watermark. This can direct your Instagram followers to your TikTok profile. Or, you can remove the watermark to make the content appear more natural to the platform you share. Cross-promoting your TikTok content can expand your reach and attract new followers to your account.
After you post your dancing TikTok video on your TikTok profile and ensure it's engaging, you can easily share it on your Instagram story. This, in return, encourages your current Instagram followers to check out your TikTok account to find more videos.
Create a Unique Video to Stand Out
We all know that TikTok is a highly competitive platform with millions of users creating and sharing content daily. If your TikTok videos don't grab the attention of your intended audience and stand out from the crowd, they won't get more TikTok followers, as you guessed.
To make your TikTok content stand out from the crowd, consider putting a new and creative twist on a popular trend or challenge. This could involve adding your personal touch or unique perspective to make the content more captivating and engaging. Another approach is highlighting your distinctive talents or abilities to differentiate you from other TikTok users.
Pin Your Best Videos
By pinning your top videos to the top of your profile, you can effortlessly turn your viewers into actual TikTok followers. This is because pinning highlights the most popular and interesting content, making it easy for new viewers to understand the content you create. Therefore, pinning the best videos helps new viewers to access them without having to scroll through your entire page. This enhances the chance of getting more followers who enjoy your content.
Share Your Videos at the Best Time
If you want to increase your TikTok following, it's essential to consider the timing of your posts. To maximize your reach and engagement, it's recommended to post when your target audience is most active on the platform. While it may take some experimentation to determine the optimal posting schedule, the effort is worthwhile. Your new TikTok followers will come to you sooner than you expect.
The Followers tab in TikTok Analytics allows you to track follower growth and follower activities for the past 28 days. The "Follower Activity" section shows your audience's most active days and times, so you'll need to convert them to match your audience's time zone. This information can allow you to identify the best time to post content and engage with your audience.
Dive Into Trending Music and Sounds
TikTok is primarily a music-based platform, with many users creating videos that revolve around popular songs or sounds. By using these trending sounds in your videos, you can increase your chances of being discovered by new viewers searching for content featuring those same sounds. Besides, by participating in popular challenges or trends that use specific sounds or music, you can tap into a wider audience and potentially go viral. This can increase TikTok followers, exposure, and engagement on your TikTok account.
Post User-Generated Content
When you repost UGC on your TikTok account, it not only shows your appreciation for your followers but also helps to encourage them to create and share more content related to your brand. This can help spread the word about your brand, showcase satisfied customers, and give potential customers an idea of what they can expect from your account.
As a makeup artist, you can encourage your TikTok followers to create videos using your makeup products and techniques. When you reshare their videos on your account, you can create a community of makeup enthusiasts sharing tips, tricks, and inspiration.
Share Informative Videos
Creators increasingly recognize TikTok's potential for education, and it's not just about fun or dancing videos. By posting informative videos on TikTok, you can expand your reach to a more diverse audience, including those interested in educational content. This type of content allows you to demonstrate your knowledge and expertise in your field, increasing your credibility. Besides, TikTok's algorithm favors varied content, so sharing different types of videos can help you reach new viewers who may have yet to be interested in more lighthearted content.
Some informative video ideas to consider on TikTok include tutorials on how to fix something, exciting facts about a topic, or sharing helpful life hacks. These allow you to grow with your TikTok followers fastly.
In Conclusion
Increasing the number of followers on TikTok is a step-by-step process that requires patience and consistency. Today, we've talked about ten steps to develop a solid and engaged follower base. After identifying your target audience, you should create unique and engaging videos, promote your videos across other social networks, or pin your best videos at the top. You can also use branded and trending hashtags, music, and sounds or participate in challenges to get more TikTok followers on the platform.
Related articles;
FAQs About Getting More Followers on TikTok
How can I make sure my TikTok profile stands out from others?
There are different metrics you can use. These include the number of new followers, the increasing speed of your video views, and the positive comments you get. 
What effective calls to action can I use to encourage more users to visit my TikTok profile?
One effective way is to use creative tests or graphics to make your call to action more visually appealing. Besides, using your CTAs at the end of your video can be a great strategy. 
How can I find the best-branded hashtags to increase my TikTok followers?
There are different ways to do this. You should start by determining the niche that your brand belongs to. You can also look at your competitors or users in the same niche as you. 
Do I need to use high-quality equipment to make TikTok videos to gain followers?
Of course, high-quality equipment allows you to improve the visual appeal of your videos. However, it's okay to gain followers on the platform. We know that many successful TikTokers have become quickly popular with low-budget content. You can shoot videos using just your phone and still create amazing content. Be creative, unique, and original.
What are the best practices for increasing TikTok followers?
There are various ways you can follow. Including engaging hashtags, creating unique videos, and pining your best videos can be effective ways. You can also share informative videos and share your TikTok videos on your Instagram account.